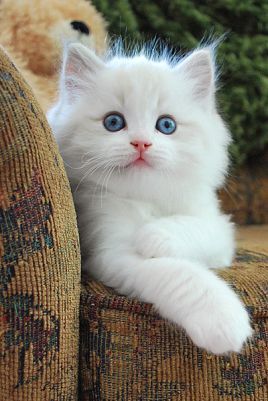 At home we breed selectively, having only four or five litters per year. Every litter is bred with the intent to produce Ragdolls that conform as closely as possible to show standards. Quality is not something we will sacrifice for quantity. Please be wary of any cattery who is offering a multitude of kittens in varying ages from a large number of litters. Makes sure a kittens parents have been DNA Tested for HCM and Registration Papers for kittens are provided.Registration Papers prove the kitten you are adopting is the REAL DEAL and not a mixed breed.There are great many BYB's out there since COVID.

When leaving our home your kitten will have had 2 sets of Core Vaccinations, Dewormed no less than 2 times and be Spayed or Neutred.You will receive your Registration Slip for TICA when kittens are picked up.

Kittens leave us with a Starter Bag of Kitten Food,New Carrier Bag,New Kitten Bed,New Toys,New Nail Scissors,New Comb plus extras at time. Veterinary Record, and a 18 month Health Guarantee against congenital defects.

We have a NO DECLAW clause in our Contract,under no circumstances shall a kitten adopted be declawed. As well,kittens must be kept as indoor only pets unless provided an enclosed space.Ragdolls are very trusting and can get themselves into a lot of trouble outside.Exposure to Germs from strays is also a Big Cause for Concern with outdoor play.

Kittens are ready to go to their new homes at 12 weeks of age.

We may occasionally have show alter kittens available. The difference between "show alter" verses a "pet quality" kitten are the markings/pattern. A show quality kitten is perfectly marked, where as a pet quality kitten may have a minor hock spot on a foot or an uneven blaze, or mismatched mittens. These kittens are just as wonderful as their show quality litter mates.Due to the challenge of breeding a perfectly marked show kitten,we reserve the right to retain any kittens with show potential.Pet quality kittens are placed in homes first.

We do keep a wait list, it is kept in chronological order and we only take a few names per litter. We request a $400.00, non-refundable deposit to HOLD your kitten.The deposit is deducted from the total cost of kittens. If we have a kitten become available from a current litter the next person on the wait list will have the choice to take the available kitten, or remain on the waiting list for the next litter.


Please send us an Email telling us about your home, family members & other pets, along with any questions you may have about our kittens.This will help us to Best Match you up with one of our Kittens.

* I have added a picture of our Favorite Water Fountain along with their favorite Toy/Scratcher.The Fountain is non-breakable stainless steel and does not contribute to chin acne in cats.Ceramic or glass is also another good choice for dishes.Plastic Dishes retain odors and can cause chin acne.